Portable echo device: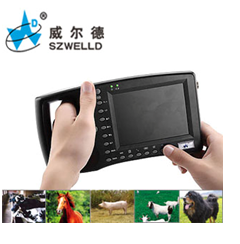 The weight 700 Gr.
Containing compact keyboard with the device.
The possibility to transfer the photos into the PC through USB.
LCD screen – 5 inch.
The device is provided by very advanced probe which makes it possible to use other external probes.
The level of color gradient 256 grey scales.
High resolution photos.
Can be charged by car.
Buttons to control the clarity of photos (Display Mode: B, B+B, B+M, M).
The device works in all lighting conditions.
Scanning with depths 80 Mm – 220 Mm. According to the applied probe and its frequency.
The device contains programs and up-to-date calculations to identify the pregnancy age in automatic schedules. So, they identify the age of pregnancy using the most recent methods that are easy to use: .CRl – FL – BPD ——.
High technique in dealing with photos (zoom, freeze up/down, left/right, —-).
The probe is electronic dynamic concentration, advanced and with multi-frequency.
This device is worked through automatically rechargeable battery inside it. It works for no less than an hour and a half. It works automatically. It can work according to the city's current 240v/50H.
The device can be provided by printer.