Detection device of oestrus, early pregnancy and electronic confinement from Draminski: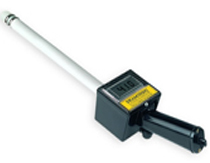 Advanced technique to identify the time of fertilization whether natural or artificial. This device is capable of detecting pregnancy early between 19 – 23 days after pollination.
Confirming the pregnancy when the oestrus detection feels steady phase.
It is a small portable computer with a charged battery 9 volt.
Technical features:
The weight: 0.3 Kg approximately.
Power: rechargeable battery 9 volt.
Screen kind: LCD 3.5 INCH.