Encephalitis and Myelitis among horses
Definition: this disease has neurological symptoms with medium-high percentage of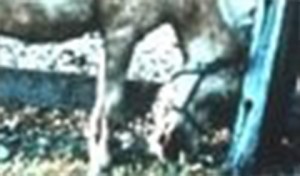 death. It is one of the dangerous diseases that infect horses.
Disease transmission and spread: can be transmitted by different kinds of mosquitoes, also, it is believed that birds can play role in transmitting it. The Venezuelan type can be transmitted through respiratory secretions and sexual intercourse.
Pathological shape: the period of incubation ranges from one week till three weeks. The symptoms begin with a fever continuing for 3-4 days they are similar to all kinds of disease. When the virus enters into the body, it transmits across the lymphatic vessels and multiplies in the lymph ganglions. Then, proliferates inside the other organs till it spreads into the blood.
In the beginning, the animal will be calm then the symptoms begin with a fever lasts for 3-4 days. These symptoms are associated with: loss of appetite, inactivity, constipation and jaundice. The neurological symptoms will be occurred after 5 days of infection. These symptoms include: changing the behavior of animal, blurred vision, aimlessly movement, pressuring the head on the fixed objects, giddiness, inability to swallow, uncoordinated stand, paralysis, body contractions and lastly the death happens after 2-3 days of the symptoms occurring. The death can be happened as a result of infection of all kinds of disease without any symptom occurs.
The deaths percentage of this disease: 20-90%.
Diagnosis, treatment and immunization:
In case of disease suspicion, send the necessary samples to the laboratory to be diagnosed by the specialist veterinarian.
There is no cure for this disease. Only vaccines include one kind of disease, two kinds or three.