Liquid nitrogen reservoirs
Liquid nitrogen reservoirs: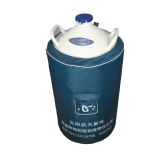 Manufactured from lightweight mixtures with higher strength for strong durability.
The cover of reservoir is solidly designed to be anti-accidents and easy to repair.
The reservoirs are designed to give the best performance during the period of usage.
This reservoir is designed to suit the easy insert and remove of the holders.
The insulation system inside the reservoir gives the best thermal performance.
The holders are manufactured from durable metal materials with high performance of insulation for hard field works.
These reservoirs are available with different sizes.